Nomastyl Crown Moldings are made of extruded polystyrene, a lightweight foam material. They are the first DIY-friendly crown molding on the U.S. market because the installation requires no major tools. Please see below for more information.
Main Product Features
Lightweight & easy to handle
No experience needed to install
Installs with only latex/acrylic caulk (no major tools needed)
Short lengths for easy transportation
Waterproof - will not expand or contract with changes in humidity
Ready to paint without primer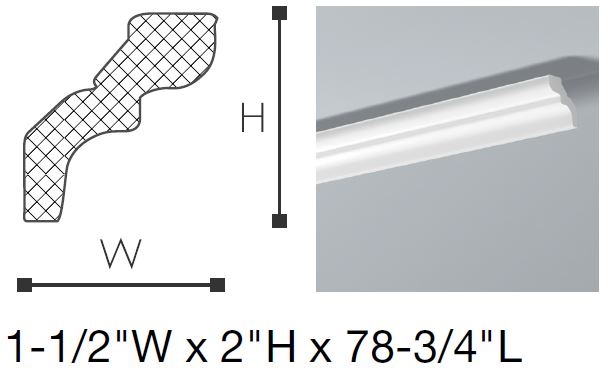 How to Install Nomastyl Crown Molding
Water Based/Acrylic Caulk

We recommend a quick dry, white caulk - can be found in the paint aisle.

Miter Box
Fine-Toothed Hand Saw

We recommend using a blade that is 32 teeth-per-inch or finer.

Spackling Paste
Fine-grit Sandpaper
Paper Towel & Running Water
Latex-Based Paint (optional)
Please note that chop saws work great to cut our crown molding. If you do not have one on hand, then we recommend a miter box and hand saw as the most affordable tools.
The simple guides below will help with the tricky inside and outside corner cuts.